Ejercicio 1: Parpadeo
Exercise 1: Blink
El primer programa Qublock será hacer parpadear el led integrado (neopixel) que lleva el Qudino.
The first Qublock program will flash the integrated LED (neopixel) carried by the Qudino.
Este son los materiales a usar :
These are the materials to be used:
Un módulo Qudino/A Qudino module
Un Cable Batería /A Battery Cable
Un Cable Usb /A USB Cable
Para utilizar el Neopixel (un led RGB programable),incorporado en Qudino, se programa dentro de bucle o ciclo el siguiente Actuador(Color)/To use the Neopixel (a programmable RGB LED), incorporated in Qudino, the following Actuator is programmed into a loop or cycle (Color)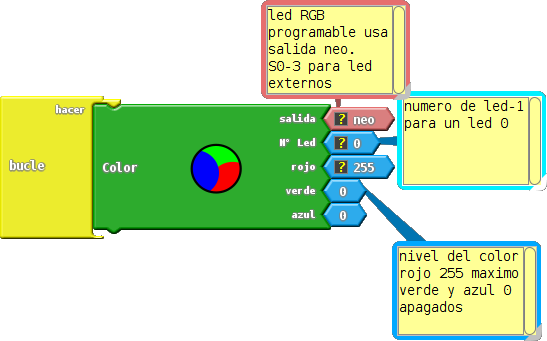 Salida neo es la dirección del led incorporado en el Qudino./ Neo output is the direction of the LED incorporated in the Qudino.
Número de led va de 0 a 255. Cuando se utiliza un led tenes que poner 0, se pueden comprar array de 8 leds o más mediante esta pagina./Led number goes from 0 to 255. When using a led you have to put 0, you can buy an array of 8 LEDs or more through this page.
Para los colores; se combinan diferentes intensidades de rojo, verde y azul, utilizando la escala desde 0 a 255. Se obtiene así un gran número de tonalidades y colores./For colors; Different intensities of red, green and blue are combined, using the scale from 0 to 255. A large number of shades and colors are thus obtained.
Con Qudino se utiliza el siguiente programa:/With Qudino the following program is used: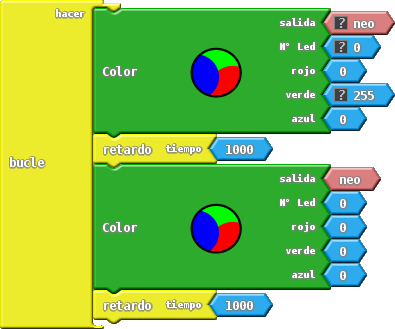 El video muestra el funcionamiento /The video shows how it works
Practica
a ) cambia el color ,por ejemplo en lugar de rojo,azul
b ) modifica el nivel en lugar de 255 ,pon 50
c ) combina los colores rojo y verde
Juega con las combinaciones que se te ocurran